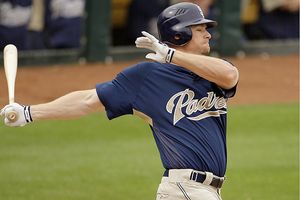 Happy Birthday Chase!
There is only one person that has lived that has lived up to the moniker "savior." And even He has his detractors.
Chase Headley was cursed with being presented to the San Diego fan base as a savior to a struggling offensive lineup. Headley was the 2007 Texas League Player of the Year and was considered one of the top prospects in the Padres organization. A 2nd round pick out of the University of Tennessee, success followed Chase Headley at every level.
On June 15, 2007, thanks to an injury to Kevin Kouzmanoff, Chase Headley was brought up to start at third base. He was hitting .357 at San Antonio at the time. He quickly obtained the moniker "savior" despite the organizations (and common sense) best attempts to lower expectations. He made his Major League debut in Wrigley Field in 2007, when he played 8 games. He was brought up again in 2008 (June 17th) to start a game at Old Yankee Stadium. Last year, when the Padres were bringing up Anthony Rizzo,
I wrote about the fallacy of putting the level of expectations that we as fans did on players like Headley and Rizzo.
The takeaway? Headley wasn't a savior. He was simply an above-average baseball player. But to a fan base expecting the Bryce Harper of San Diego, there was no greater crime. And it is a crime that Chase Headley continues to pay for.
In 2011, Chase Headley finished in the Top 10 of 3rd basemen in the following categories: AVG (10th), OBP (3rd),SB (3rd), BB (7th), RUNS CREATED (9th).
Is he a power threat? Not really. Though people whose view of baseball is as regimented as a blueprint assume he should be since he plays a corner infield position. Bud Black often uses Headley in power positions in the lineup, though admittedly, who else should bat 3rd or 4th on this team right now? Yet what Headley does do, and does it well, is get on base. In a park and with a lineup that will not produce many 3-run HRs, the Padres need to manufacture runs to win. And you can't manufacture a run without having people on base. For as much debate (read: bitching) there is about the park and its dimensions, Chase Headley is a rare player who can and has had offensive success in Petco.
Of course, if you only view offensive success in HRs and RBI, I see why your disappointed. I also see you have a painfully narrow view of what a successful baseball player looks like. While HRs are not the be all, end all, RBI is as imperfect a stat as W are for a pitcher.
The Padres have many holes to fill. Middle infield, corner outfield, half the starting staff is injured. Let's not go creating problems where they don't exist. Chase Headley is one of only a few players that the Padres have that produce consistently, are durable, plays solid defense, and is homegrown (for whatever value you put on that).
Imagine a world in which Chase Headley was not presented as the savior of a franchise, but simply a minor league prospect brought up to replace an injured starter. Consider how much leeway you give Anthony Bass or Wieland. And then ask yourself why unrealistic expectations cloud your opinion of one of the few bright spots on this Padres roster.
Extend Chase Headley and build a lineup around him, Maybin and Alonso. But if you think Headley is part of the problem, I'm not sure we are watching the same games.
Headley had the audacity of not being Brooks Robinson. For this, some fans will never come around to him. But if your expectations are that high, strap in friend, because life is going to be really disappointing.