There are few San Diego media members who, when they say something or spout an opinion, I listen. And listen closely. Darren Smith of XX1090 is at the top of that list.
Tonight, he tweeted something interesting. On the day that a new ownership group was announced, and simultaneously Petco Park was once again passed up for an All-Star Game (being awarded to Target Field in Minnesota in 2014), Darren Smith tweets this:
Off air, one of the #Padres new owners told me that getting the All Star Game to PETCO was a priority:"We've got to get that here".

— Darren Smith (@DSmithShow) August 30, 2012
Was this an off-the-cuff comment in light of the news of the day? More importantly, does this comment imply that the ownership groups interest in an All-Star Game is a vital component to having one awarded to your home park?
I don't know the answer to this. But I do know this. I want an All-Star Game in Petco Park. Consider this the official kick-off of the Left Coast Bias campaign to bring the Midsummer Classic to San Diego. I intend to take full credit for when this actually happens (knowing full well I have little, if any, actual ability to effect this decision).
Here is a list of venues that have not hosted an All-Star Game, in order they were opened:
Tropicana Field (opened in 1990; Rays played there since 1998)
Great American Ballpark (2003)
Citizens Bank Ballpark (2004)
Petco Park (2004)
Nationals Park (2008)
New Yankee Stadium (2009)
Target Field (2010)
Marlins Park (2012)
Here's what is more interesting to me. Since Petco Park opened in 2004, here are the venues that have hosted an All-Star Game, and more importantly, when those parks opened:
2004 - Minute Maid Park (Opened in 2000)
2005 - Comerica Park (Opened in 2000)
2006 - PNC Park (Opened in 2001)
2007 - AT&T Park (Opened in 2000) Also, a break from the typical NL/AL split.
2008 - Yankee Stadium (Opened in 1923) It's last year in existence.
2009 - Busch Stadium III (Opened in 2006)
2010 - Angel Stadium (Originally opened in 1966; Renovations in 1998)
2011 - Chase Field (Opened in 1998)
2012 - Kaufman Stadium (Opened in 1973; Renovations done in 2009)
2013 - Citi Field (Opened in 2009)
2014 - Target Field (Opened in 2010)
Of these venues, 3 have previously hosted an All-Star Game. New York ('39, '60, '77); Anaheim (1989); Kansas City (1973). So let's remove those from our list.
The longest gap between a park being opened and an All-Star Game being awarded is 13 years with Chase Field in Phoenix. Per Darren Smith yet again:
@leftcoastbias @sdrhythm Very political.Some thought Arizona getting it was directly due to Moorad leaving (think Reinsdorf)

— Darren Smith (@DSmithShow) August 30, 2012
Otherwise, on average, a brand new venue is awarded an All-Star Game 4 to 5 years after opening. So, who was it in San Diego that became the albatross upon which MLB would not grant a Midsummer Classic to San Diego? Sandy Alderson, Jeff Moorad, Neil the Beerman? Who knows?
But those people are gone now. And in comes new owners, clearly respected by the MLB fraternity of owners (as evidenced by how quick the approval vote went).
The point really is this.
San Diego is a fantastic sports town. And has proven time and again to be a marquee city when hosting major sporting events. And it's been since 2008 (PGA U.S. Open) since America's Finest City has had the opportunity to do so.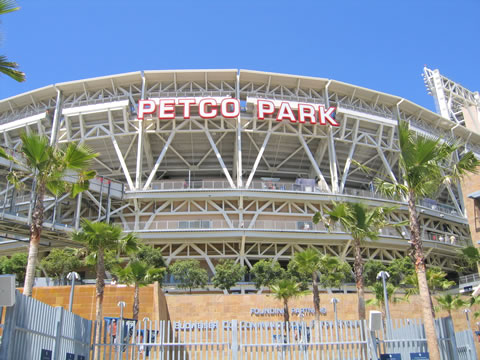 The Park at the Park packed with fans. A homerun derby that will bring more controversy then any before it (assuming the fences aren't moved by then). The San Diego harbor as the backdrop for 3 days, while the spotlight of MLB shines brightly.
And maybe this time, the Padres representative will actually get to play.
2014 is heading to Minneapolis. An AL city. An NL city is on deck. 2015 will make 11 years since Petco Park has opened.
It's time MLB.