If you are not one for optimism, or one for rooting for what appears to be the impossible, look away. If underdogs and made-for-Hollywood comebacks make you queasy, this post is not for you.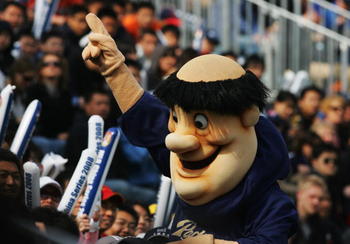 Because what I'm about to say defies logic, common sense, and will likely lead you to discredit any opinion forthwith as the ravings of a madman.
But I'm not so sure the Padres are out of the 2012 playoff picture.
Stay with me now. And let me make this crystal clear. I have no expectation that they can do it. Zero.
But...it could happen.
In 2011, the St. Louis Cardinals were 10.5 games back of the Wild Card on August 25th. They won the World Series.
In 2010, well, I think you know what the Giants did.
And let's not forget the multiple years of Rocktober we've witnessed. The precedent has been set.
What if the Padres
could be one of those stories
?
Again, this is madness. Craziness really. Or is it?
The Padres finished a July above .500 (15-11) for the first time since 2010. Meanwhile, the Dodgers played .500, the Diamondbacks at 14-13, and the Giants at .500. Should that happen again in August, the Padres would be 7.5 games back at the start of September.
In September, the Padres play the Diamondbacks, Giants and Dodgers 6 times each.
It's possible. That's all I'm saying. Not probable. Possible.
Cashner is throwing bullpen sessions. Grandal is tweeting about his return. Chase Headley has caught fire now that he doesn't have to check trade rumors every hour of every day, Quentin is healthy (ish) and providing protection, and the team is committing less errors.
If sports has taught me anything, is that the impossible is possible. It was impossible that Adam Scott would lose the British Open with a 4 shot lead with 4 holes to play. Yet he did. It was impossible that the Giants could beat the undefeated Patriots in the Super Bowl. Except they did. George Mason in the Final Four? IMPOSSIBLE! Yet it happened.
Teams get hot. Other teams fade. Lightning in a bottle. Cliche. Cliche. Cliche.
But isn't it more fun to hope?
"Hope is a good thing, maybe the best of things, and no good thing ever dies."
- if I have to tell you what this is from...watch more movies.