By now you have no doubt heard the story of Christian Lopez.
Lopez is the lifelong Yankees fan who was in the ultimate "right place, right time" when he caught a piece of baseball history that is as rare as it comes. How rare? Only 28 people in the history of Major League Baseball have ever reached 3000 hits.
Of those 28, only two got #3000 with a HR. And Christian Lopez, for a moment anyway, had that rarest of baseballs.
From the sound of it, Lopez and his father were immediately surrounded by security and whisked into the bowels of Yankee Stadium, all the while listening to the security refer to him as "the package."
Within minutes he was asked what he wanted to do with it. Lopez, having barely a second to think about what had just happened to him, choose the high road. The honorable thing. He gave the ball to Jeter and asked for a signed jersey. What he got was more than that: Autographed baseballs, autographed bats, autographed jerseys, and 4 Champions Suite tickets to all remaining Yankee games this year.
Total approximate value: $45k-$50k
Here's the rub. Lopez is a 22 year old graduate of St. Lawrence University, and education that provided him life experience, academic challenges...and a ton of student loans. Over $100k in fact.
Total predicted value of Jeter's 3000 Hit HR Ball on Open Market: $200k-$250k
Chances are you didn't know the approximate value of the baseball moments after he caught it while being asked by Yankee Stadium security.
So I posit this question to you, Padres fans. And really, to all baseball fans. What would you do?
I have a ton of student loans. An amount that is large enough that, were they to disappear, it would affect my life in a substantial way. So, since this has happened I've wondered what I would do in the situation that Lopez was in. Say, somehow, I catch Tony Gwynn's 3000th hit.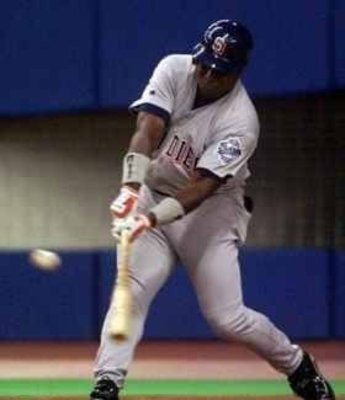 My favorite player on my favorite team. And in my hand is something that has taken Tony Gwynn most of his career to accomplish, and something that is one of the rarest feats in all of sports.
I'd like to think I would do the right thing. Give the ball to its rightful owner, accepted my free memorabilia and tickets and be on my way. Besides, its not like "catching a piece of history" was in my financial plans for dealing with my student loans the day before.
Then again, $200,000, while very little to a professional athlete or franchise, would literally change my life in a profound way. The second largest monthly bill beyond rent would disappear. Along with it the stress that student loans bring with them.
Then I think of the backlash. The media and fans who would brand me greedy and not a "true fan." I think about the fans who took the extraordinary step of suing each other over ownership of
Barry Bonds 700th HR ball
, and how much disdain I looked at those two with and how happy I was when they were ordered to split the proceeds but the value of the ball had dropped so much that they couldn't pay their attorneys.
I applaud what Christian Lopez did. And I wonder, the next day, when he was told the approximate value of the ball, how he felt. And I secretly hope that Jeter and the Yankees will cut him a check, privately, because he gave the ball back.
Would I keep or sell this hypothetical Tony Gwynn ball worth $250,000? I honestly don't know. Ask me when my student loan bill comes in the mail.