So the Cardinals have a new manager. Well, welcome aboard Mike Matheny. I don't envy anyone who has to try and replace an icon of the level of Tony LaRussa. Best of luck. I think you might need it.
The Cardinals hiring of an ex-player led to the obvious discussion topic amongst Padres fans. What former player could manage the Padres? This of course leads to the most obvious answer: Mr. Padre, Tony Gwynn.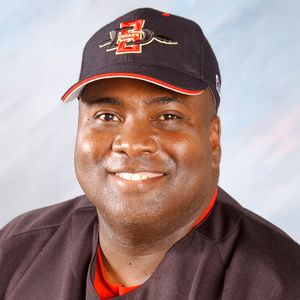 This is the kind of debate fans have post-World Series but pre-hot stove. But hey, at least it gives us something to talk about.
Here's why hiring Tony Gwynn (which again, I cannot stress enough, is hypothetical only. No rumor is being put forth that this is, in any way, an actual idea) to manage the Padres is a terrible idea.
One, and frankly most importantly, is that I don't think Tony Gwynn has any desire to ever manage at the Major League level. He has said many times how much he enjoys teaching the game of baseball to young people. I don't sense Major League managers do a lot of "teaching" the game. My sense is that Gwynn has no interest in SABR and no interest in player ego. Not that college kids don't have egos, but they aren't being paid multi-million dollars and college baseball players are hardly the celebraties that their football and basketball counterparts are.
Two, and more importantly to me, is the fact that being the head coach/manager of a professional sports team has to be the most grueling job in sports. And the least forgiving. Simply put, if you are the head coach or manager of a professional sports team, there is about an 85% chance you will be fired and/or run out of town by the teams fanbase.
Who on earth wants to go through that with Tony Gwynn?
If you follow the various Padres fans on Twitter, then you are no doubt aware of the popular hashtag #BudBot. A fun little way to express your displeasure with how Bud Black has arranged the lineup, or made a pitching change.
Are we really ready for a world of #GwynnBot tweets? Are we ready to have hour long debates over Gwynn not abiding by a players WAR? I'm not.
My guess is Tony Gwynn may not make a great MLB manager. At minimum, he has no experience. Yes he manages a college team but frankly, to me, that could not be further from the same as MLB. Is it baseball? Yes. But at the college level, the main focus, as I understand it, is to recruit players.
I pray at the Church of Tony Gwynn. I don't need that image sullied by him taking a job that is impossible to succeed at longterm. Bobby Cox comes around once in a generation. Even Joe Torre was let go by the Yankees.